10 day Horseback Combination hunt for Mountain Goat, Moose, and Elk
This is a great opportunity to see wild British Columbia mountains. The dates of this hunt are September 13-22. Mountain goats have good hair, Elk are in full rut and moose start responding to calls by about the 15. Hunters will be staying in Cabins and possibly spiking out into tent camps. We only have one of these left for 2018.
A Mountain Goat Hunt Birthday Surprise
I love to surprise hunters and this story is my favourite mountain goat hunt story.
In the early days of owning this hunting territory in British Columbia Toby Dutter had come on a moose hunt, during this hunt we took a drive into the mountains to see if we could find a bull moose with our binoculars. While we were there, we noticed a number of Mountain Goats on the mountains across from us. Toby turned to me and said that he would love to hunt them. Unfortunately our goat hunts where booked up for a number of years to come, but I kept that information in the back of my mined and was able to use it the following year.
Toby was coming moose hunting in British Columbia the following year, he was going to be in our camp during his birthday and we just so happened to have a mountain goat tag available because a hunter had cancelled at the last minute. I purchased the goat tag for him with out his knowledge and put a plan in motion.
When Toby got there I told him that I had a new spot to explore and he was the guinea pig. He rolled his eyes but as always he was willing and off we went. It was a long ATV ride through some excellent moose country but after a few hours we where there. Walking out on a rimrock looking at a gorge like valley Toby looked at me and said why are we moose hunting here!! He didn't know but we had a population of mountain goats that lived in a river valley a long ways from the mountains. I told him we could see a lot of country and you never know. I proceeded to locate a good billie goat below us and once I put the spotting scope on it I tapped Toby and told him to take a look. When he bent over and looked at it he said "I would love to hunt mountain goat one day!" I pulled the mountain goat tag out of my pocket and handed it too him and said too bad we didn't have a tag. It took a while for it to register but when it did you couldn't have whipped that grin off his face. A well placed shot, short back pack, and long ATV ride back, Toby had a birthday Mountain Goat Hunt he will never forget.
Toby Dutter
I first hunted with Aaron in 1999. Man does time go by fast. I would guess Aaron and I have climbed the hills together at least 15 different times since then. I've hunted pretty much everything with him and his crew, successfully I should add.
You cannot find a better place to pursue the trophy of your dreams, and make a good friend along the way. Give Fredlund Guide Service a try…you won't be disappointed.
Featured Excusions
Casey Diener
Would recommend going with this guide service to anyone. I have grown up white tail hunting in Indiana with my Dad. My Dad and myself always dreamed of a moose/elk hunt in Canada. In 2015 Aaron and his guides made it possible. My dad shot a bull moose and I shot a bull elk. Our freezers are now full of lean, red meat.
The campsite was great. Hot showers, good cooks, nice beds, 1x1 guide to hunter ratio, and a positive atmosphere for a quality conversation after a day of hunting. No vulgar speech from the guides which made me very happy. And Aaron will work his tail off to make his hunters successful.
If you go with Fredlund Guide Services you will be satisfied. My Dad and I had the hunt of our dreams.
Seriously! they work so hard to make your hunt success!
Casey Diener, Indiana
Jim Zepaltas
I have hunted with Aaron a half a dozen times, from Big Horn Sheep to Grizzly Bear. All of my hunts were fun and exciting. Aaron and his staff go all out to make your hunt a true adventure…
I highly recommend Fredlund Guide Service for your next BC hunt.
Jim Zepaltas, Eau Claire Wisconsin
Rob Buehler
I have hunted with Fredlund Guide Service a number of times and every hunt has been excellent. Aaron and his guides go out of there way to be sure you have a great adventure and hunt. I would highly recommend Fredlund Guide Service.
Rob Buehler, Rice Lake Wisconsin
Christian Gustavsen
Fredlund Guide Service provide high quality big game hunts. Guides, area and trophy quality is really good. I have hunted British columbia every year since 2004. since 2012 I have hunted with Aaron and his guides, my next hunt (goat hunt) is booked with Fredlund Guide Service and I am really looking forward to it.
Christian Gustavsen, Norway
Lee Cochran
World class moose hunting! Aaron and his crew excel at creating an epic experience.
Lee Cochran, Hawaii
Jim Testin
I also have hunted with Aaron several times from Moose to Grizzly Bear and to say I've had a great time would be a understatement. I have had many successful hunts and have four more hunt's booked and I can't wait… Aaron and his guides run a great camp and go out of there way to see you feel at home and will do everything possible to see you are successful. I really look forward to our hunts and highly recommend Aaron and Fredlund Guide Services.
Jim Testin, Camano Island Washington
Terry Romans
One of my favorite places to hunt. I've hunted everything from Big Horn to Grizzly with Fredlund Guide Service, some species more than once…..all successful hunts. Actually have several more hunts booked with him presently. Great camp and food, good and knowledgable guides sometimes challenging terrain to hunt. This area has good wildlife density, and trophy quality. Most importantly, this outfitter is 100% honest and all of them give 110% effort in the field.
Terry Romans, Liberal Kansas
A Story From Your Guide on a Moose Hunt
Hunting had been really tuff. It was day 9 of the hunt, and we had not encountered too many bulls. They were all held up with cows. I was guiding Jim Zepaltas, and Bob Nault was guiding Joe Boxrucker. When it came time for the evening hunt and Bob and I went our separate ways. Jim and I were headed to our spot and came around the corner and standing 75 yards from us was a huge bull. Jim made a good shot and our story is over. Sometimes it is just meant to be.
Bob and Joe on the other hand had quite an adventure. Bob had gone up to a look out to see if he could spot anything in the valley below and right away spotted a bunch of moose all together. There were a few cows and a few bulls all milling around in what we call a "rut party." There was a big bull in the bunch. The two hunters took off to see if they could get to the spot before it got too dark. When they arrived they could hear Bulls grunting, cows calling, and a bunch of crashing around. Bob gave a cow call and a small bull came over right away. This little bull would not leave them alone. They finally had to throw rocks to get the moose to go away. Still Hearing the big bull, they decided to wade in there. They had to sneak through some thick willows to get close. Bob gave a good bull moose grunt and out came the big bull. Joe had to make an off hand shot and and the bull ran off. Bob and Joe went to the spot where the bull had been standing to look for signs of a hit. Nothing…..Joe had missed. Disheartened the two stood there trying to figure out what to do when they heard the Bull grunting again. Bob called again, and again the bull came out. This time Joe did not miss. Sometimes it it is just meant to be……
Allen Birchett's BC Moose Hunt
My wife and I were thinking about buying the area we currently operate in and had arranged a little bite of a trial period with the previous owner. So we spent a lot of time scouting and getting to know the area and then took a few clients out on a hunt.
Allen Birchett was one of the clients that we took on one of these BC moose hunts. His hunt started in the beginning of October. We hunted for a few days and had not seen a bull. It was evening and we walked into a spot i had never been before, haha, and I tried a cow call.
Not very far away I heard an answer. It was a very timid one and I assumed it wasn't a very big bull, but I continued to call so that at least Allen could see his first moose. He kept coming slowly through some really thick stuff and I never heard a horn touch a branch or even a stick break so I continued to think it was a small bull. I happened to be looking the other way when Allen said he could see him. I looked over and to my surprise there was a huge bull moose slowly and quietly weaving his horns through the woods coming strait for us. Needless to say we got him and Allen had harvested a huge British Columbia moose.
The moose scored 199 and change gross Boone and Crocket and was really unique. His left horn had a really thick ridge that ran down the middle of the pan, and on the bottom of the ridge there were two drop tines that hung down. Here are a few pics, the only thing I regret was not taking enough pictures. Now days with digital cameras we can just hold that button down and take as many as we want. But you cant go back and get more.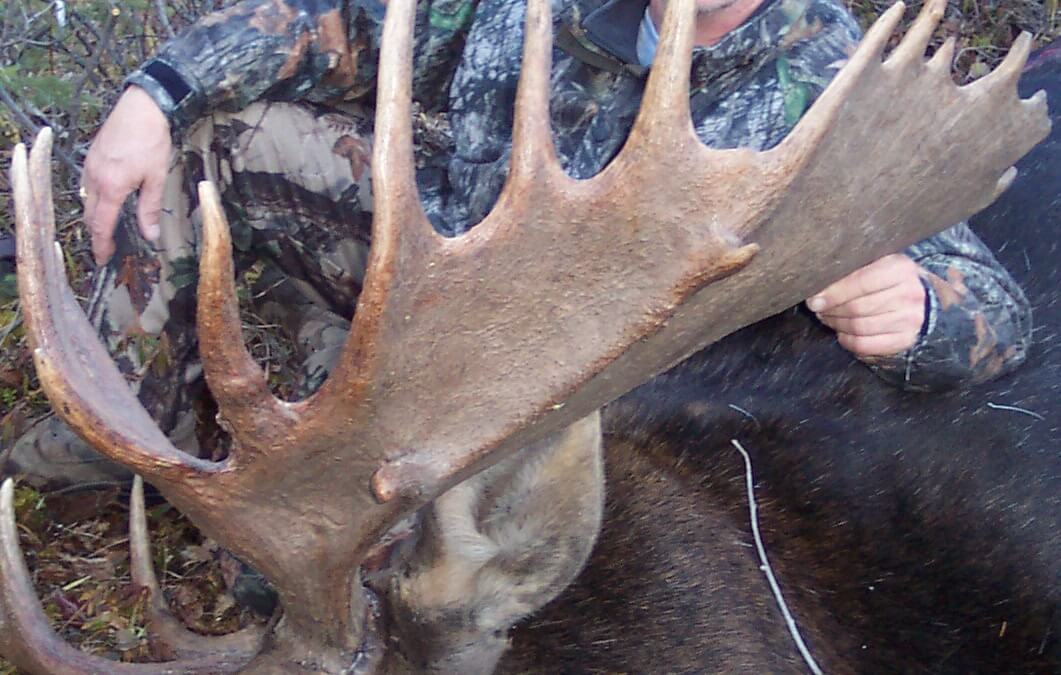 Great Elk Hunting BC
British Columbia offers a great deal of potential hunting challenges, ranging from prey animals like mule deer all the way up to massive predators like grizzly bears. Somewhere in the middle of these potential quarry lies the elk. Elk hunting BC is among the least complicated hunts in British Columbia a hunter can undertake as the creatures are not endangered, and are in fact quite prolific, sometimes to the point of being problematic. However, their size is a sight to behold and their antlers make some of the best trophies available in western Canada. Further, they can be quite challenging game, particularly given that they are quite well adapted to fending off natural predators such as wolves and escaping larger predators such as bears.
Known in Shawnee and Cree as waapiti (meaning ìwhite rumpî), the elk of British Columbia are prolific enough to be considered a species that is acceptable to hunt. Inhabiting the forested hills and taiga of the wilds of British Columbia, elk hunting BC usually occurs in the month of September. This is when the elk are in their rutting season, preparing to mate and then breed. Because the elk are often preoccupied and more willing to brave the lands outside the deepest wilds in search of mates, this makes it a fairly ideal time for a patient hunter to bring in a sizable bull. However, due to laws about British Columbia elk hunts, only bulls may be brought down; cows and calves of the species are not legal game animals and few legitimate hunting outfitters will assist a hunter in bringing in these specific elk.
The creatures are well adapted to clashing with predators, ranging from coyotes to cougars. Their massive size and herd tactics will find off most predators that face the entire herd, and any veteran hunter will tell you that messing with the entire herd is a very bad idea. Lone males during the rutting season seldom have herds, but their massive antlers allow them to gore any potential predators that they deem threats. It is for this reason that hunters are advised to be more careful around these creatures than they would lesser game such as mule deer. Additionally, these animals are prime prey animals for many other species of predator beyond just humans, and it is not uncommon for black bears and wolverines to be drawn to elk carcasses brought down either by other animals or human hunters.
The forest and forest edge terrain these creatures inhabit can, however, be treacherous; as picturesque as the lands of British Columbia are, they can be dangerous and inexperienced hunters will likely need a guide to the lands of the region. However, with the right outfitter and the right hunter, the province can almost ensure a large bull elk to any hunter willing to get a permit and put forth the effort to hunt it. Six point bulls are incredibly common in British Columbia in September, and larger, more impressive bulls are far from unheard of in these wilds.
The History Of BC Moose Hunts
The history of BC moose hunts reaches back to the First Nations, who relied upon hunted moose meat as a major source of protein, as well as using the dried hides for shoes, clothing and shelter, as well as tools made of bones and antlers, an important element of the First Nations' economic systems. Indeed, some records state that some bands of the First Nations starved if anything severely reduced the amount of moose inside their borders. The importance of moose into the modern day has declined in many parts of British Columbia, but in the northern and rural reaches of the state, moose meat remains an essential element of the local diet. Modern First Nations people are among those who find great use for moose meat in their cuisine.
With the coming of firearms and industry, human activities began to make an impact on the number of moose available to hunt in BC moose hunts. Logging, settlement, farming and hydroelectric dams reduced the ranges of British Columbia's moose. Further, the arrival of automobiles and highways in recent years sees a great increase in the number of moose killed by cars and trains, economic damage from which encouraged the government of British Columbia to open the gates for hunters to help control the populations. The hunting is heavily regulated and while hunters remove many moose from the population during the legal hunting season (which is also the species' rutting season), concerns over unregulated harvesting has become a conservation concern. Additionally, access roads are beginning to reach deeper into moose habitats, leading to further over harvesting of the species.
Beginning in 1981, the Canadian government took an interest in protecting and enhancing the moose habitats in the northern and central regions of the state. Increasing logging in the region is also something of a concern, as loss of habitat may further shrink the ranges of moose. Land using planning for the steadily rising population of British Columbia are also beginning to take into account the needs of moose and other wildlife as well. And, while a great many conservation programs are in effect around the creatures' ranges, the number of moose has, for reasons that are at the moment poorly understood by biologists, decreasing across the country. Scientists are investigating this matter further, but it remains something of a mystery in scientific circles.
Risk to these creatures' range aside, moose hunts in British Columbia have produced some truly amazing trophy specimens that turned into iconic moments in the history of hunting in Canada. The twentieth highest score bull moose taken in British Columbia was brought down in 1971 and clocked in at 221 and 7/8ths points. Nine years later, in 1980 another hunter brought in the provinces biggest moose ever, a 242 point bull near Grayling River. The hunter, Michael E. Laub, had long wanted to hunt moose in British Columbia, but had never seen these animals in person until he saw the specimen that would prove to be the biggest on record.
All About Elk Hunting In BC
If you are a lover of big game hunting, an elk is one of the favorite big game animals to hunt. Elk hunting is one of the most popular outdoor events in British Columbia, Canada. Elk hunting is one of the most exciting sports with plenty of cross-country traveling on foot or horseback. The big bull elk usually weighs up to 1000 lbs with grand antlers. Elk hunting is not only a sport but all about enjoying the natural surroundings. This article provides a comprehensive overview of elk hunting BC.
The elk is a fascinating animal in British Columbia. In fact, it is considered the second largest species of deer in the region. Elk hunting has become extremely popular in recent times among the big game hunters in the area. There are many companies that offer guided elk hunts to suit the varying tastes and budgets of hunters. BC is considered a good place to hunt trophy elk in Canada. There are many things that you need to keep in mind when preparing for an elk hunting trip. Some of the most important skills that you need include physical fitness, high altitude conditioning, navigational skills, tracking skills, camping and survival gear, appropriate clothing, hunting skills & equipment, and meat packing gear. You also need to learn various elk calls to attract the animal and require a flat shooting rifle that could cover a varying range. These are important skills to cultivate before you undertake an elk hunting trip in British Columbia, Canada.
A great outfitter is the best option to guide you throughout your elk hunting trip in BC. IF you're looking for British Columbia elk hunting, the area has many great outfitters prepared to help you in all your elk hunting endeavors. Your chances of hunting a majestic elk are greatly enhanced when you pick a great outfitter to assist you in the process. These people offer you the best opportunity to succeed in your elk hunting BC trip. They have all the resources, knowledge, and experience to assist you to succeed in elk hunting. Communicating your needs to the outfitter will help increase your chances of success during the hunting trip.
An elk has a very sharp sense of hearing, smell, and vision. The animal will never let you come closer to it. Unless you are an experienced hunter, your chances of succeeding in elk hunting are slim. This is where a professional outfitter comes in handy. They have highly experienced guides who will help you hunt trophy elks in British Columbia, Canada. Finding a professional and experienced outfitter may not be an easy task after all. With so many outfitters in BC, how will you pick the best company? The internet has simplified your efforts of picking the best outfitter in BC. You can easily compare the service features and packages offered by various outfitters by going online. This way you can pick the best outfitter to help you hunt a trophy elk in BC, Canada.
The aforementioned article provides information on elk hunting trips in British Columbia, Canada.
Why Elk Hunting In British Columbia?
There is one question that arises when talking about hunting and that is, why elk hunting in British Columbia? What makes it so special that a person would be willing to come from various parts of the world to take a look? There are numerous reasons for this.
Each hunter has his/her own in terms of why they like the province and its herds. There are three which are always listed when the topic does come up. These reasons do a lot to answer this question and are commonly seen on the lips of those who are hunting in the province.
Let's begin with the quantity of those who are being hunted. The elk herd is massive and that is great for hunters who want to be able to spot them and then take care of them as well. It is not easy to locate elk in other regions, but in British Columbia, that is not a problem.
Big National Elk Herd
The herd is large in size and this means it is easier to get to them as well for any hunter. The guide can take a person around and it will be simple enough to get to see elk.
While elk hunting in British Columbia is lovely and that is a part of the appeal, it is not the only thing that a person is going to remember about their trip. It is just the setting and how it seems to join well with the rest of what is being done. Hunting in such a beautiful landscape is breathtaking and something you can take with you.
Beautiful Landscape
Those lovely sights and the great weather is just incredible. It is the type of thing a person won't ever be able to forget even as they get older. The elk just adds to the beauty.
It is not just about how many elk there are in the province, but about their size as well because that can have an impact on the hunt. If the size is not good, you won't have a good trophy to collect and take with you. Therefore, this does play a role for hunters.
Large Trophy Sizes
In this regard, the hunt will be a success because the province is home to some of the biggest elk you will get a chance to see in British Columbia. It is a big part of its appeal.
Going elk hunting is intriguing and something many hunters wish to do when they talk about this province, but it is important to know about these benefits. It is about being able to tap into these benefits and really go for a good hunting session out in the woods where the elk are.
Professional hunters travel from all over the world to take a look at the elk in this region because of how many there are and the quality of them. It is just perfect for hunters and a dream come true for all involved in the process.
Contact Info
Big Horn Sheep, Mountain Goat, Moose,
Elk, Deer, as well as Black bear hunts.
1-403-638-1368 or aaron@huntfgs.com
13385 215 Rd, Peace River Regional District,
British Columbia, Canada,V1G 0H4
Preparations
What to Bring
All hunts:
firearm (must be .24 caliber or greater with at least an 18.5″ barrel)
extra ammunition at least 40 rounds (airlines are hard on rifles you may need to adjust rifle)
hard gun case (durable enough to withstand airline abuse)
sleeping bag
personal first aid kit (optional)
personal hygienic gear (shaving kit, soap, etc.…)
hunting gear (knife, binos, game calls, scents, etc.…)
camouflage hunting apparel (including a spare set if available)
rain gear and small day pack
waterproof boots, rubber boots, and camp shoes
September and October Moose and Elk Hunts:
FLEECE OR WOOL HUNTING CLOTHES, NOTHINGELSE WILL DO!!!
 THIS WILL MAKE A HUGE DIFFERENCE ON THE SUCCESS OF YOU HUNT.
November Hunts:
warm winter clothing
warm winter boots (helps if they're waterproof)
Firearms
All Non-Residents of Canada must fill out a "Non-Resident Declaration Form" , and pay a small fee. This will allow you to enter with your Firearm
All US hunters bringing a firearm into Canada FORM 4457 -A CERTIFICATE OF REGISTRATION FOR PERSONAL EFFECTS TAKEN ABROAD prior to entry
No Pistols are allowed for hunting in Canada
Place your ammunition in your CHECK LUGGAGE, not in the gun case or carry on.
Hunting Regulations
Here is a link to the British Columbia Hunting Regulations
Accommodations
Our main camp at Stoney Lake is set up with a lot of modern amenities. Comfortable heated sleeping cabins, good dining facilities, and hot showers. Huguenot Camp is equipped with 4 cabins heated by would stove for hunters and guides. There also is a beautiful log main cabin where everyone eats and gets together talk about the day's hunt. Our Horseback hunts are based out of our Belcourt Camp, from there you may ride to one or more of our outpost cabins situated through the mountain valleys. It is important to be able to get dry and warm, this is a hunt but it is also a vacation.
Getting Here
Book your flight to Grande Prairie Airport (YQU), in Alberta. From here we provide transportation to and from our hunting camps in British Columbia
Thank you
Pricing & Available Hunts
Hunt Dates
Black Bear hunts (6 day) May 15 – June 15
Bighorn Sheep hunts (14 day) August 15 – August 29
Single or Combination hunts (10 day) August 20 -29, Sept. 1–10, 13–22, Sept. 25–Oct. 4, 7–16, 19–28.
Deer hunts (8 or 10 day) November 9–14, 16–21, 23-28
Winter Lynx hunts (6 day) January, February
These dates may be adapted to meet individual needs
Hunts Available for 2018
Horseback Hunts
1 Hunt Sept 13-22 Mountain Goat/Moose/Elk combo
1 Hunt Sept 25-Oct 4 Rut Moose or Moose Elk combo
1 Hunt Oct 7-16 Rut Moose
Truck/ATV Hunts
1 Hunt Oct 7-16 Rut hunt
3 Hunt Oct 19-29 Post Rut Moose Hunt
Pricing and Special Requests
Spring Black Bear hunt (2 on 1) $3900 USD 6 Days
1 species Fall hunt 1on 1 $10,000 USD 10 Days
3 Species Fall hunt 1 on 1 $13,000 USD 10 Days
Horseback hunts add $3,000 USD
Big Horn Sheep hunt $50,000 USD 14 Days
Species available: Moose, Elk, Mountain Goat, Black bear, Whitetail, Mule deer, Wolf
Price does not include, license, tag, WPF, and 5% tax
All prices are in USD
Additional Fees
License $195
WPF $200
Sheep $695
Goat $390
Moose $250
Elk $250
Black Bear $195
Whitetail $140
Mule Deer $140
Wolf $50
Pricing Request
To view pricing, signup for our enewsletter system by entering your email below.
Outfitter
Jessica and Aaron were married in 1998. They were blessed with Chase in 2008 and Faith in 2013. Both have been a very energetic and entertaining addition to the mix.
Aaron Fredlund started in the guiding/outfitting business about 21 years ago when he began working in northern British Columbia. It was here that he could combine many of his natural and learned abilities to create a hunting experience like no other. His drive to explore his natural surroundings, his desire to work with people and his strong willingness to learn have left many very satisfied hunters with a trophy animal.
In northern British Columbia, Aaron guided for many of the most desirable game in the region. Stone sheep, moose, mountain goat, caribou, and grizzly bear of significant quality were all harvested in these remote parts of Canada's north. These mountains, in which he was living, reached into his prairie blood and he was hooked. Calling moose, planning a stalk on wise old sheep or sneaking up on herds of caribou, Aaron thrived in this environment and was very successful in his hunts.
Shortly after marrying Jessica Cowie, Aaron was hired by a renowned Alberta whitetail outfitter. Hunting came very naturally to Aaron in this environment, it was similar where he grew up in Whitewood, Saskatchewan. In Alberta, Aaron has guided many hunters to their dream buck. As well, in the winter, wolf guiding has provided a welcome challenge and has taught Aaron many things about harvesting these amazing creatures. The springtime has proven to be an excellent and very successful time to bait black bears in northern Alberta. Providing his services to several high-quality outfitters, Aaron has developed an understanding of what it takes to collect that once in a lifetime trophy.
Building on his highly developed techniques in game tracking, combined with his now renowned personalized and successful guiding services, Aaron has established himself independently as Fredlund Guide Service. Since Aaron and Jessica started taking on their own clients, they have dedicated themselves to give a 100% effort in not only providing a trip to remember, but also in working to get you a trophy animal.
2006 brought on yet another expansion in the services offered by Fredlund Guide Service. Aaron and Jessica moved to Tumbler Ridge BC and purchased a new hunting area. This area includes both foothills and mountains teaming with wildlife. FGS now offers Big Horn Sheep, Mountain Goat, Moose, Elk, Whitetail and Mule deer, as well as Black bear. This addition will prove only to satisfy their future customers with new and exciting opportunities.
Al Horvath
We had excellent guides, good facilities, and we made good friends with some wonderful people. Aaron and his crew did everything they could to make our hunt a success.
There are horses available, but our group used trucks and 4-wheelers to get to jumping off points. Anyone who wants to see some incredibly beautiful country, and explore hunting, should contact Aaron or his lovely wife Jessica.
Al Horvath, Superior Wisconsin
Photos & Videos
Testimonials
British Columbia Moose Hunts
Our area offers British Columbia moose hunts that have been proven to be successful.
Lush mountain terrain and river bottoms, as well as the temperate forest, make British Columbia the ideal place for your next moose hunt. Let's look at what British Columbia can offer the moose hunter.
British Columbia boasts many natural mineral licks as well as the lush valley's and willow runs where bull moose hope to find a cow. Knowing where these natural moose havens are can pay off when hunting these majestic creatures
Moose Hunting Season
Mid-September to late October is when we conduct our British Columbia moose hunts. Bull moose, in full rut, frequent many of these backwoods regions in the quest for a mate. This means it's the ideal time for a hunter to call a rutting bull moose.
As the bull moose begin to shed their velvet at the beginning of September, hunting begins. Readying your hunting gear and start planning a moose of a lifetime. When you choose British Columbia moose hunts, you are sure to find success. The dates that we recommend for a good Rut moose hunt are, September 13-22 (Pre-rut, good time to combo with other animals), September 25-October 4, and October 7-16.
As October winds down the moose begin to leave the rut season and focus more on feeding before the harsh winter sets in. Either rut or the feeding before winter are an ideal time to find your prey. Best dates for this hunt are October 19-28.
Combination Moose Hunts
Many hunters prefer to combine a British Columbia moose hunts with another species. As long as the proper permits and documentation are in place, this is allowed. We recommend that combo hunts are don't September 13 – 22. Moose are starting to rut; elk are in full rut. Black bear hunting is good now because of the abundant blue berries. Mountain Goat hunts are done now as well.
Moose Hunting Style
90 percent of the time you will harvest a Bull moose while hunting on foot and calling. We do have several enclosed stands overlooking natural licks that provide good success as well.
This combination allows us to provide hunts for a varying number of physical abilities, great for Father and Son hunting. In British Columbia, we offers the best of both worlds, good hunting and lots of fun.
Moose Hunt Accommodations
We provide comfortable accommodations in the form of heated cabins. Cook house and common areas also allow for a lot of hunting stories, planning the next day's hunt, and for sure lots of laughter.
Moose Hunt Licensing
With all our out of country hunters, we will make sure that you have all the proper permits and tags and that you're up on the regulations for your hunt. The cost of your hunt included
all royalty costs that may be incurred because of your hunting success.
BC Hunts
Check out our hunting opportunities. ​
Talk to us about our combination hunts (moose, goat, elk and more) and get your spot reserved for next season. Request our Rates & Availability »
Page Not Found
Sitemap
Brining a firearm from the USA for the purpose of hunting in British Columbia
Here are a few Documents that will help you cross the boarder into Canada with a firearm. Having this documents filled out and ready will make your boarder crossing much smoother and start your British Columbia hunt off on the right foot.
All hunters brining firearms into Canada for a hunting trip need to fill out a Non-Resident Firearms Declaration Form upon entry into Canada. Is can be filled out in advance or at customs upon enter. We downloading and filling out the form so that you are ready once you reach your point of entry into British Columbia Canada.
​Every individual bringing a firearm from the USA into British Columbia Canada needs to fill out a Form 4457 - Certificate of Registration for Personal Effects Taken Abroad prior to entering Canada. This will allow you to reenter the USA with your firearm after your hunting trip in British Columbia.
Slideshow Banner
Thank you
​Thanks for your submission, we will get back to you soon.
Bookings
We openly welcome your questions, inquiries & comments… Please feel free to contact us anytime at:
1-403-638-1368 or aaron@huntfgs.com
Or complete the form below or our pricing and availability request form here.
View information on preparing for your hunt.
About Fredlund Guide Service
The goal is to provide one of the absolute finest quality British Columbia Hunts available.
Your getting an Outfitter that is a Local…
If you're a serious hunter then you understand that the locals know the best spots. Using an outfitter who lives in the area can make all the difference. We live in British Columbia where we outfitt and have been outfitting here since 2005. Our hunting area includes both foothills and mountains teaming with wildlife. We are excited to share it with you.
You Get Experience
What's a local without experience? For more than 17 years Fredlund Guide Service has been taking a select number of hunters out each year and has seen fantastic harvest rates and trophy sizes. As outfitters, it is our belief that hunters should get what they pay for; an adventure to remember, a relaxing vacation, and a success-filled hunt. Regardless of which hunting package you choose, our intention is that you get the absolute highest possible service, hospitality, and shot opportunities.
We Only Take A Select Number Of Hunters
We've chosen a business model that puts quality before quantity. The reason for this is you get better quality guides, better quality animals to hunt (because they are not over hunted) and much more personal service. Most hunters book 12-24 months in advance, but some have booked much sooner.
Welcome to Fredlund Guide Service British Columbian Guide Outfitter
The goal is to provide one of the absolute finest quality British Columbia Trophy Hunts available.
FGS clients should not only expect the highest possible trophy shot opportunity, but they should walk away feeling like they've been hunting with friends. FGS offers Big Horn Sheep, Mountain Goat, Moose, Elk, Whitetail and Mule deer, as well as Black bear hunts.
British Columbia Mountain Goat Hunts
One particularly exciting way to experience British Columbia is on a British Columbia mountain goat hunt.
In the northern reaches of the planet, there are vast woodlands and soaring mountains. On the taiga of British Columbia stand some of the most amazing landscapes on planet Earth. With the Rocky Mountains towering over all and forests as far as the eye can, divided only by roaring rivers and ravines, it's easy to see why so many people are eager to visit British Columbia every year. One particularly exciting way to experience British Columbia is on a British Columbia mountain goat hunt.
The Challenge of a Mountain Goat Hunt
A British Columbia mountain goat hunt is a challenging test of wilderness skills for any outdoors person. Though the creature is not actually a member of the goat genus, it is distantly related to goats, sheep and muskox. The species is built for climbing and can effectively maneuver across rocky or icy terrain that would spell death for most other creatures. Their feet are perfectly adapted to the task. Their feet contain inner pads that give the goat amazing traction, their cloven hooves can spread apart, while the tips of their feet have sharp dewclaws that keep them from slipping.
Trophy Mountain Goat
Standing at about 1 meter at the shoulder, furthermore male goats can weigh between 100 and 400 pounds. Their long black horns contain yearly growth rings that measure the goat's age. Mountain Goats live mostly in the Cascade and Rocky Mountain ranges; these creatures tend to live on the same mountain face for long periods of time. Seasonal migration patterns move them from mountain to mountain as the weather dictates. With their thick, woolly fur coats, they survive low temperatures of the alpine regions of earth. Strict herbivores, mountain goats subsist mostly on grasses, herbs, ferns, mosses, twigs, leaves in their natural habitat. Female mountain goats, though smaller than the males, are surprisingly aggressive towards perceived threats to their offspring.
Mountain Goat Hunt Style
Hunting British Columbia Mountain Goats is a matter of many hours of looking through binoculars to find your quarry. Then the hunt changes to an expedition requiring physical prowess and stamina. Climbing rocky bluff or stalking timberline ridges make mountain goat hunting exhilarating. Shots range from 100 to 400 yards. Once a mountain goat is harvested taking photos takes some time then the skin and meat are prepped, loaded into backpacks, and the hard work of returning to the horses begins. This is a very rewarding hunt and will be logged as one of a hunter's greats accomplishments.
Mountain Goat Hunt Licensing
With all our out of country hunters, we make sure that you have all the proper permits and tags and that you're up on the regulations for your hunt. The cost of your hunt included all royalty costs that may be incurred because of your hunting success.
British Columbia Mountain Goat hunts, test yourself. Accept the challenge.
British Columbia Elk Hunts
If you're seeking British Columbia Elk Hunts you're sure to appreciate the diversity of the terrain here and the beauty of the area.
From high mountain meadows to the river bottoms, if you're seeking British Columbia Elk Hunts you're sure to appreciate the diversity of the terrain here and the beauty of the area. Hunters from around the world flock here to get their elk and other species during any given hunting season.
Whether you prefer bow hunting or rifle hunting, you're sure to appreciate the opportunities that British Columbia has to offer. The diversity of the habitat ensures that you're sure to get the experience of a lifetime and no two experiences will be the same.
Elk Hunting Camps
You can choose from a land camp or a boat camp and just about everything in between. There are also some remote hunts that are available and even private land hunts.
Elk Combination Hunts
Elk Hunting can also be combined with other species so you can hunt for several different animals at one time. We can help you get the proper permits and tags.
Elk Hunt Licensing
With all our out of country hunters, we make sure that you have all the proper permits and tags and that you're up on the regulations for your hunt. The cost of your hunt included all royalty costs that may be incurred because of your hunting success.
It's important to note that the government here in British Columbia strictly enforces that there is a six-point antler restriction. You'll be expected to know all the restrictions and adhere to them when you're hunting here.
British Columbia Black Bear Hunts
British Columbia Black Bear Hunts are an opportunity you don't want to miss.
Great trophies, awesome terrain, good guides, and good times, make this a hunt you need to add to your bucket list. The terrain is ideal for hunting so you're sure to have your fill of opportunities. Boasting the largest population of black bears in the North American region, British Columbia produces the most successful black bear hunts by comparison to any other area.
Typically, black bears taken from this region are in the six to seven-foot range. Most of the bears are jet black however we have harvest some beautiful colored bear and some will sport a chevron on their chest.
Bear Hunt Times
If you're seeking a quality hide, we recommend the spring season. This ensures that you're getting what you want. We hunt British Columbia Black Bear starting May 15 and go through June 15th. If you prefer a fall hunt the best time starts Mid-September. In the fall, we prefer to hunt Moose, Elk, and Mountain Goats, but add a black bear tag just in case.
Hunt black bears for their hides, but don't forget they can be mighty taste as well Black Bear Population At present, the population of British Columbia Black Bears is approximately 120000 to 160000 in the region. This is perhaps the highest density of Black Bears in the nation. With over 1900 square kilometers to hunt in, you're sure to find your quest.
Whether you hunt the spring hunt in May and June, or the Fall hunt in September, success rates are high. It's your turn to try your hand at our a Canadian Black Bear Hunts
Bear Hunt Licensing
With all our out of country hunters, we will make sure that you have all the proper permits and tags and that you're up on the regulations for your hunt. The cost of your hunt included all royalty costs that may be incurred because of your hunting success.
British Columbia Black Bear Hunts, great start to a hunting year…
British Columbia Deer Hunts
Experience the wonders of the wilds with a British Columbia deer hunts.
Mule Deer Hunts
The wild lands of British Columbia are some of the wildest and most majestic in all of Canada, featuring picturesque woodlands, rough conditions and an abundance of plant and wildlife, ranging from the simple rabbits to the exotic bears and timber wolves. There are several ways to experience these lands. Even simply driving through them on a clear summer day will be dazzling and going deeper into the forests will only improve the experience, whether you're talking a short walk from your car to embarking on a month long personal safari and camping trip. One of the best ways to experience the wonders of the wilds of these incredible lands is with British Columbia mule deer hunts.
Trophy Mule Deer
However, there is quite a bit of work that goes into all British Columbia mule deer hunts. The first thing to understand is what you'll be hunting. The mule deer is a species of deer indigenous to the western regions of the North American continent; while the species is sometimes found elsewhere, it is almost always found west of the Missouri river, usually
inside the Rocky Mountain regions where they have lived and thrived since the last ice age. They are named for their ears, which are large and resemble the ears of a donkey or mule. Their height ranges between 31 and 42 inches and weigh between 121 and 331 pounds, making the larger specimens serious game and a potential threat to humans they deem threats to their young or herds. Female deer are normally smaller. Their movements are dictated by the seasons and their autumn mating season marks their largest antler sizes, while a male mule deer's antlers fall off in the winter to regrow over the next year. Female mule deer lack antlers.
Canadian laws have some standards for B.C. mule deer hunts. The open season with bows is loosely regulated, and happens largely in the autumn season between September and November, while Canadian firearms laws make hunting with rifles a trickier matter. Hunters are usually allowed to bag a single mule deer male. The British Columbia hunting regulations are of course far more complex than a single article can cover, so it behooves all honest hunters to know those regulations before going into the field. The exact type of mule deer hunt depends on personal preferences. Most hunting expeditions have a base camp where the hunters rest before setting out to find some prey. Depending on the exact setting, this may be at a higher elevation than you're used to. The experience of hunting mule deer in British Columbia is not for the faint of heart, but can be exhilarating while being a reasonably safe and legal hunting trip for those who enjoy such North American safaris. The main tip for hunters should be to be cautious and obey all pertinent hunting laws to ensure that there will be mule deer to hunt next season. Finally, the wilds of British Columbia, while beautiful, can also be dangerous and one shouldn't stray too far from civilization without a guide or serious training in survival.
Whitetail Deer Hunts
British Columbia contains some of the most beautiful regions in all North American. With soaring mountain peaks, wide grassy prairies and vast woodlands, it's a nature photographer's dream come true. Experiencing these lands can be risky, however, as nature can be dangerous; sudden snows, floods and sometimes even just getting lost can doom an unlucky human. Still, there is much to be said about the wilds of British Columbia, and people from around the world come to this section of Canada to experience its wonder. One of the best ways to experience these wilds are through British Columbia Whitetail deer hunts, a difficult process that will test all but the greatest hunters.
Trophy Whitetail Deer
The British Columbia whitetail deer hunts are a complex affair for such a numerous species. While most people know whitetail deer as "ordinary" deer, the species is unusual. Some subspecies are the fastest cervids on Earth, reaching land speeds of up to 47 miles per hour. The species is also very widespread, ranging from the far reaches of British
Columbia to the Oaxaca jungles of Mexico. Though their breeding season is relatively short, human activities and restrictions on hunting have since revived the once endangered species to the point of becoming somewhat over abundant. This species has a great many different forms of communication, which includes a combination of vocal sounds, body language and specialized glands that emit scents for both communication and marking. While most of their former natural predators have become endangered themselves, the whitetail deer itself as since prospered since the 1930s. While they do not thrive everywhere in their range, in some places few natural predators, they have become a threat to the forests they live in as the species has an incredibly diverse diet, being almost entirely nearly any plant matter in the woodlands they inhabit, but they have also been recorded as having rare bursts of carnivorous activities. Male whitetail deer, bucks, are about 45 to 125 kilograms in weight, though some specimens reaching over 180 kilograms have been recorded. While most deer prefer to run when threatened, they can be a threat to humans.
If they feel extremely threatened to the point where they are afraid to run, they will gore their attackers with their horns or, if they are without horns, head-butts will suffice.
British Columbia maintains a specific season when whitetail deer can be hunted, usually around the autumn season, and usually only permits the hunting of bucks of a certain size. Canadian firearms laws make hunting with rifles a tricky proposition for even local hunters, but there are no restrictions on simpler but no less effective hunting tools like
bows. It is advised that would-be hunters bone up on British Columbia's hunting laws before beginning any safaris so as to avoid legal troubles involved in their hunt. Even while following all local laws, hunters are advised to be careful out in the wilds, as there are far more than deer in the wilds and bad weather can be disastrous for any hunting expedition.
British Columbia Bighorn Sheep Hunts
Intriguing game of the British Columbian peaks, the bighorn sheep
The mountains of British Columbia are among the most picturesque in all of Canada and indeed, all North America. While the mountains can be treacherous, a great many mountaineers have and will continue to trek up and down the peaks of British Columbia in pursuit of challenge, adventure and self-satisfaction. Others simply prefer to camp on the lower ends of the mountains and enjoy that view for themselves. There are many ways to enjoy the natural wonders of British Columbia's mountains. A few choose to go hunting in these mountains, with perhaps the most intriguing game of the peaks being the bighorn sheep. However, British Columbia bighorn sheep hunts are a serious matter and should not be undertaken lightly.
Bighorn sheep are, true to their name, a wild species related to the domestic sheep that humans have domesticated and cultivated for centuries. These sheep, however, are not simply placid grazers, but wild and untamed survivors who have thrived in North America since the Pleistocene. Bighorn sheep are named for their large, curved horns, some of which can weigh as much as 14 kilograms, while the animal itself can weigh as much as 230 kilograms (males at least; most females are far smaller, weighing around 90 kilograms), particularly in British Columbia. The bighorn sheep of British Columbia is the subspecies known as the Rocky Mountain bighorn sheep. This subspecies is hardier than most, surviving in cold temperatures its desert brethren couldn't handle and being perfectly built by nature to handle steep, rugged terrain as well as human climbers without the benefit of tools. The
animals graze on grass and shrubs and seek out natural salt licks to get minerals in their diet. In an odd bit of sexual differences, female bighorn sheep tend to forage and walk, while the larger bodied and horned males tend to eat and then rest, which leads to a greater increase in body size. Bighorn sheep live in large herds and while they typically do not follow a single leader ram, though rams will clash horns to establish dominance and mating desirability during the mating season. These clashes, which can damage the sheep's horns, also happen sporadically during the rest of the year.
Like all game species in British Columbia, the local government maintains restrictions on what can and can't be hunted. While big horn sheep are fair game, it is only during a specific time that bighorn sheep can be hunted legally. Honest hunters would do well to bone up on local hunting rules and regulations before going on a bighorn sheep hunt. Further,
Canadian firearms laws make rifle hunting a bit of a complicated matter, though it is not entirely unheard of hunts in British Columbia to use basic hunting rifles. Bows and crossbows labor under far less restrictions. Hunters are advised to be careful, particularly on the treacherous Rocky Mountains, as rock slides do happen. Further, the bighorn sheep is not a docile animal and may get violent when it feels threatened, but that is all part of the challenge.
So, if you're planning on some British Columbia bighorn sheep hunts, make sure you keep this information in mind.