Allen Birchett's BC Moose Hunt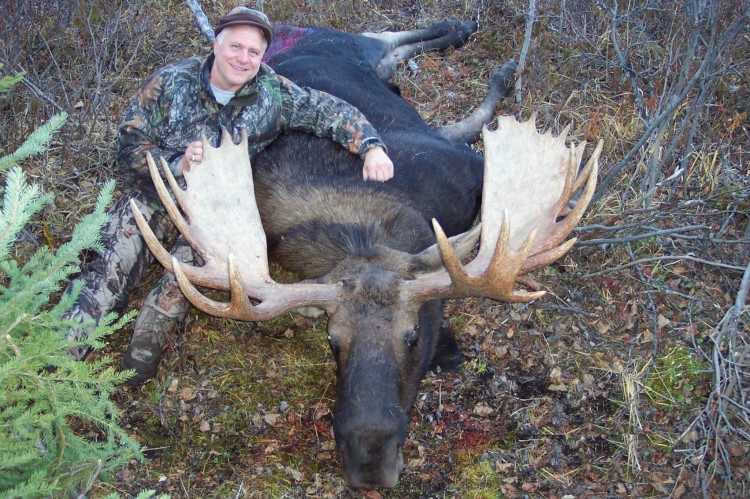 My wife and I were thinking about buying the area we currently operate in and had arranged a little bite of a trial period with the previous owner. So we spent a lot of time scouting and getting to know the area and then took a few clients out on a hunt.
Allen Birchett was one of the clients that we took on one of these BC moose hunts. His hunt started in the beginning of October. We hunted for a few days and had not seen a bull. It was evening and we walked into a spot i had never been before, haha, and I tried a cow call.
Not very far away I heard an answer. It was a very timid one and I assumed it wasn't a very big bull, but I continued to call so that at least Allen could see his first moose. He kept coming slowly through some really thick stuff and I never heard a horn touch a branch or even a stick break so I continued to think it was a small bull. I happened to be looking the other way when Allen said he could see him. I looked over and to my surprise there was a huge bull moose slowly and quietly weaving his horns through the woods coming strait for us. Needless to say we got him and Allen had harvested a huge British Columbia moose.
The moose scored 199 and change gross Boone and Crocket and was really unique. His left horn had a really thick ridge that ran down the middle of the pan, and on the bottom of the ridge there were two drop tines that hung down. Here are a few pics, the only thing I regret was not taking enough pictures. Now days with digital cameras we can just hold that button down and take as many as we want. But you cant go back and get more.